Episodes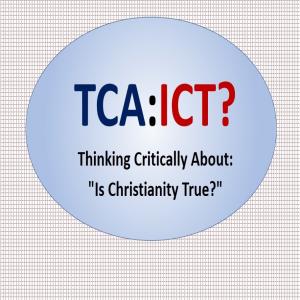 Monday Oct 17, 2022
Monday Oct 17, 2022
NOTE: I updated this DRAFT on June 6, 2023.  I have used my argument analysis process (as outlined in my Critical Thinking Conference presentation "How to Do Careful Argument Analysis") to go back through these objections (my fourth time working through them).  The previous DRAFT was 49 pages, and the new analysis is 116 pages.  It is more detailed, more step-by-step, and includes more argument diagrams.  To download the PDF with my careful argument analysis of the nine objections to the Swoon Theory, click on the orange circle with the white triangle.
One chapter of the book I'm working on will be focused on the EVALUATION of objections to the Swoon Theory, presented by the Christian philosophers Peter Kreeft and Ronald Tacelli in Chapter 8 of their Handbook of Christian Apologetics.  I argue that all nine of their objections FAIL.  
Before one can intelligently EVALUATE an objection or argument, one must first understand the objection/argument. I call this initial phase ARGUMENT ANALYSIS.  Because ARGUMENT ANALYSIS is less interesting for most readers than ARGUMENT EVALUATION, I plan to put my analysis of the objections in an appendix. 
Nevertheless, ARGUMENT ANALYSIS is a crucial part of critical thinking, and anyone who is lacking in skill or ability in ARGUMENT ANALYSIS will not be able to do a good job of ARGUMENT EVALUATION, and thus will not be much of a critical thinker.  The EVALUATION of arguments is central to critical thinking, and since ARGUMENT ANALYSIS is essential to ARGUMENT EVALUATION, it is also essential to critical thinking.
The document attached here is a DRAFT of my ARGUMENT ANALYSIS of each of the nine objections raised by Kreeft and Tacelli against the Swoon Theory.